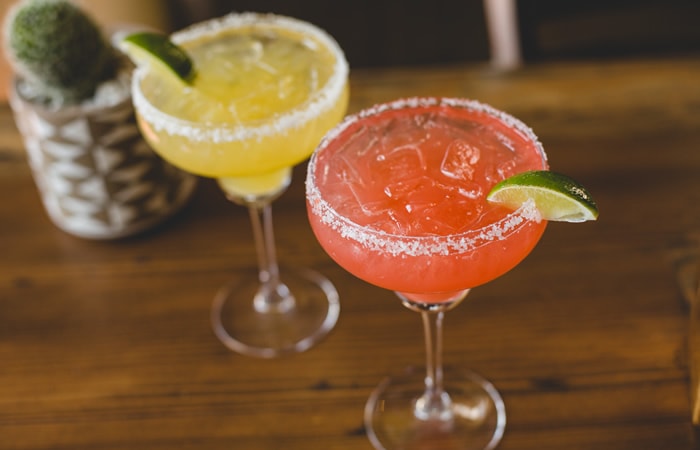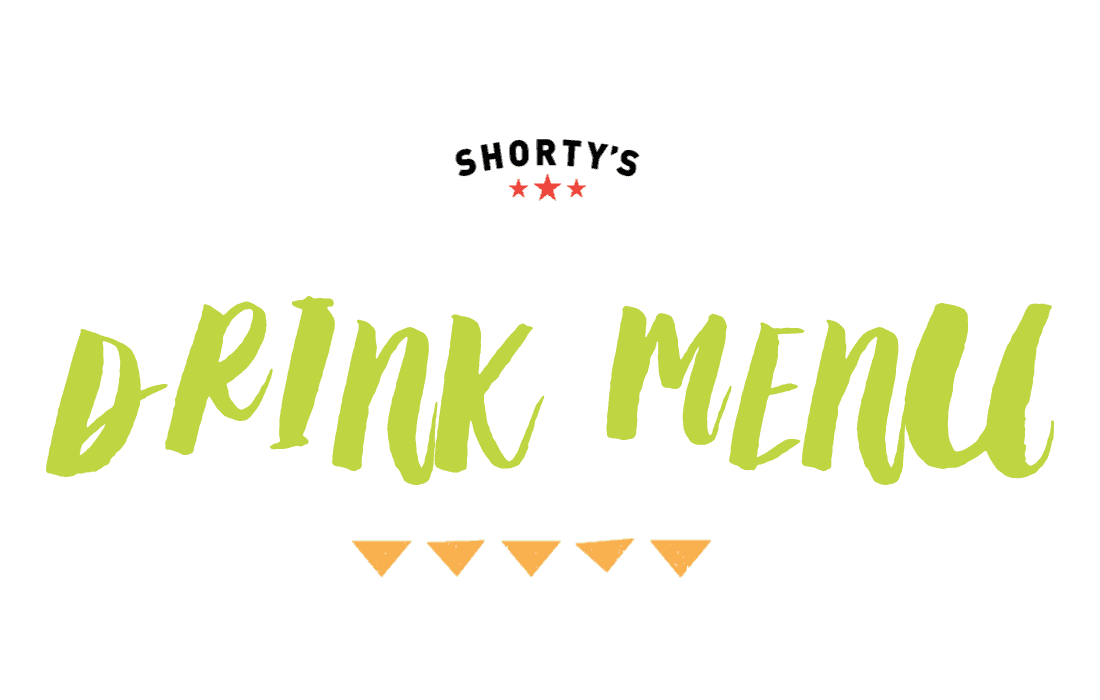 Our best selling cocktail uses House Tequila, Triple Sec, Sour Mix
Espolon Reposado, Cointreau, Sour Mix, Orange Juice, Grand Marnier
Our Shorty's Favorite Margarita but made with Jamaica Gold Tree Ripe Lime Juice rather than Sour Mix
El Jimador with your choice of fruit flavor – Served Frozen or on the Rocks!
Flavors: Strawberry, Raspberry, Peach, Mango or Melon
Hornitos Silver, Triple Sec, Pomegranate Juice, Lime Juice
El Jimador Silver, Blood Orange Liqueur, Lime Juice
1800 Coconut, Strawberry Purée, Pina Mix, Splash of Lime
Cuervo Traditional Reposado, Triple Sec, Sour Mix & a mini Corona topper
Hornitos Reposado, Cointreau, Sour Mix, Lime Juice, Muddled Oranges
Espolon Silver Tequila, Cointreau, Guava Nectar, Lime Juice
Cabo Wabo Reposado, Grand Marnier, Guava, Pineapple
Spicy and refreshing! Tanteo Habanero, Muddled Cucumber & Mint
COCKTAILS
Our Fresh Lime Juice with Agave Nectar and Soda Water, mixed with your choice of Hornitos Plata Tequila or Deep Eddy Lime Vodka
100% Blue Agave Herradura Silver Tequila mixed with the fresh taste of Fever-Tree Sparkling Pink Grapefruit
A classic concoction! House Rum & Banana Liqueur blended with Piña Colada mix and a touch of grenadine. Topped with a float of Myers's Rum. Can be served frozen or on the rocks.
Bacardi & Malibu mixed with Orange, Pineapple and Cranberry Juice. Floated with Myers's Rum.
Silver Rum shaken with fresh Lime Juice, Soda Water & Mint. Add a touch of Strawberry, Pineapple, Mango or Pomegranate to liven things up a bit!
BOTTLES & CANS
603 Seltzer
Athletic Brewing (Non-Alcoholic)
Bud Light
Budweiser
Coors Light
Corona
Corona Light
Heineken
Michelob Ultra
Modelo Especial
Pacifico Clara
Stowe Cider "Tips Up"
SILVER
1800
Agave Underground
Avion
Blue Nectar
Cabo Wabo
Casamigos
Casa Noble (Organic)
Cazadores
Chamucos
Cuervo
Cuervo Tradicional
Deleon Platinum
Diamond
Don Julio
El Jimador
Espolon
Herradura
Hornitos Plata
KAH
Maestro Dobel
Milagro
Milagros Select Barrel
Patron
Patron Roca
Tequila Ocho Plata
Tres Generaciones
AÑEJO
Avion
Cabo Wabo
Casamigos
Casa Noble (Organic)
Don Julio
Don Julio 70th Anniversary
Espolon
Herradura
Hornitos
KAH
Milagro Select Barrel
Patron
Patron Roca
Tres Generaciones
MEZCAL
1800
Avion
De Amor Amaras
Los Amantes Joven
Los Amantes Resposado
Montelobos
REPOSADO
Cabo Wabo
Casamigos
Casa Noble (Organic)
Cazadores
Clase Azul
Cuervo Tradicional
Deleon
Don Julio
Espolon
Herradura
Hornitos
Hussong's
KAH
Milagro
Patron
Patron Roca 
Tres Generaciones
FAVORITES
1800 Coconut
Cuervo Gold
Tanteo Jalapeño
"HIGH LINE"
Avion Reserva 44 Extra
Gran Mayan Extra Anejo
Gran Mayan Extra Anejo Barrel Select
Gran Patron Burdeos
Gran Patron Piedra
Gran Patron Platinum
Herradura Seleccion Suprema
Freixenet Cordon Brut, Spain
House Chardonnay
House Sauvignon Blanc
House Pinot Grigio
House White Zinfandel
House Cabernet Sauvignon
House Merlot